Orville and Judy McFadden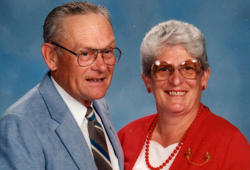 Gift Type: Charitable Gift Annuity
Orville McFadden graduated from Veterinary School at Michigan State University in 1951, which is the same year that he married Judy! Orville was originally from New Haven, Indiana and Judy grew up in a small town in Michigan called Mason, which is close to Lansing. Judy was saving up funds to go to Business School, but Orville convinced her to come to work for him instead!

They moved to Mentone in 1951, where Orville went in to practice with "Old" Doc Anderson. In 1965, the McFaddens bought a dairy farm that sits at the top of a hill on the Beaver Dam Road; and they moved their growing family out to the farm in 1974. Orville operated his large animal veterinary practice for 20 years. The McFaddens had five children, three boys and two girls. The girls graduated from Mentone High School, but by the time the boys were in high school, the schools had consolidated and they graduated from Tippecanoe Valley High School.

Orville and Judy love to travel, and have visited every Civil War battlefield in the United States. Judy says they visited some before they were even known by the general public to be battlefields!

Orville served on a Destroyer Escort in the Pacific Ocean, as the Engineering Officer, during WWII.

When asked to describe their heroes, Orville cited President Harry Truman as the man he most admired, and who had the biggest impact on his life. "President Truman not only ended the war, but he was instrumental in getting the G.I. Bill passed," said Doc McFadden. "That G.I. Bill is what allowed me to go to college. If it hadn't been for Harry Truman, I don't know what I would've become!"

The person who had the biggest influence on Judy's life was a neighbor lady when she was a child. Her name was Hazel Love. Mrs. Love would stop by Judy's house every week and pick her up and take her to church. She also started taking her to the youth group functions and other activities. Judy said, "She took a liking to me, and got me involved in community activities, which I loved because it got me out of the house!"

Orville and Judy established a Charitable Gift Annuity at the Community Foundation because they wanted to be a part of the Pillars of Our Future Endowment Campaign to increase the Foundation's future sustainability. A gift annuity allowed them to make a sizeable charitable gift, and receive a reliable income stream for the rest of their lives.

When asked if they had a message for future generations, they replied, "Like we tell our grandsons, 'Work hard, and save your money. You may not need it, but then again, you might!'"